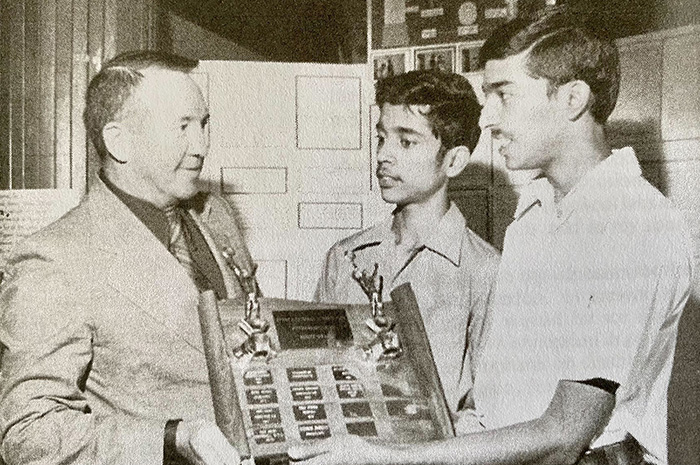 Dr. L.M. Cumming, Past Chairman of the CIM Ottawa Branch, with brothers Stephen (left) and Selwyn De Souza, who won the Queen's University Metallurgical Engineering Award at the 1982 Canada-Wide Science Fair, held at York University, Toronto.
CIM Bulletin, 1982
This story originally appeared in the November 1982 edition of the CIM Bulletin.
The Canada-Wide Science Fair was held at York University, Toronto from May 15th to May 22nd. The CIM Ottawa Branch again this year assisted in sponsoring several student delegates whose original projects won prizes, including the CIM Award for Mineralogy and a silver medal awarded for an entry in the Senior Physical Sciences Category. Stephen and Selwyn De Souza' project, entitled "Solution to Acid Rain from  Lead: Hydrometallurgical Leaching of Lead Sulphide," also won the Metallurgical Engineering award from Queen's University for the best project related to mineral/metal processing and recovery. In the accompanying photo, Dr. L. M. Cumming, past Chairman, CIM Ottawa Branch, is shown congratulating the De Souza brothers on winning these awards.
Summary of the 1982 Canada-Wide Science Fair
This year's Canada-Wide Science Fair was a special one, as it was the 21st 'Coming of Age' anniversary. It was the largest ever. Ten provinces were represented, with 250 projects from 57 regions of Canada. The Fair was held from May 15 to 22 at York University, Toronto. 
The week began with a trip to the Toronto Islands for a picnic and barbecue. On Monday, everyone went via Toronto subway to the C.N. Tower. After a delicious brunch, buses brought the exhibitors and delegates for a long ride to the Ontario Science Centre.  At the Centre, a new display on China amazed and fascinated all. Tuesday provided workshops and seminars by York University professors, covering various fields of scientific interest.  On Wednesday and Friday, there were tours to several different places around Toronto: the Metro Zoo, Ontario Hydro, University of Toronto Labs, Pickering Nuclear Plant, the Planetarium, Dehavilland Aircraft and Connaught Labs. From Wednesday to Saturday, the exhibits were on display and judging took place. On Friday, a banquet was hosted by the committee partners, including Wayne Ginou, the chairman, Cliff Moon, in charge of special events, Jim Forbes, head of publicity and Terry Price, coordinator of York University arrangements. The delegate and chaperone from Ottawa, Mrs. Williams, made the whole week most enjoyable and exciting for the exhibitors.
Saturday, the last day, was without a doubt the most tense and exciting day of the entire fair, as it was on this day that the awards were given out. Questions going through the mind of the exhibitors, such as, "Was it all worth it? Did I say the right thing to that judge? Did I talk too fast? Did I answer all the questions properly?",  were all resolved at the awards ceremony in Burton Auditorium at York University campus.
Description of Projects
There were some excellent projects at the Fair which were awarded numerous prizes for merit. The Canadian Institute of Mining and Metallurgy Prize was awarded to Robert Minto for his project on Mineralogy. Robert has an avid interest in collecting various mineral and rock samples, and his gift set of rocks and minerals from CIM should be a welcome addition to his collection. He also won a geology prize.
Other fascinating exhibits at the fair included Kathleen Leggett's project about Red Dye No. 2. Her studies of the effects of this carcinogen on living organisms and the chemical reactions involved with the compound not only won her a gold medal, but an Immunology Award, a trip to the Weizmann Institute in Israel and a $2000 scholarship from Rockwell International for the best project of the Fair.
Tony Marincak, a student of Merivale High School, Nepean, exhibited a project on Robotics. This mechanical wizard constructed a robotic arm out of odds and ends and manipulated the arm via a computer. His practical applications of the use of his arm in the life sciences won him a Biological Engineering Award. In addition, he won honourable mention in the Engineering senior category and a major award of a scholarship to attend the Shad Valley Institute near Aurora, Ontario.
Other Ottawa projects included Ravi Pandya's "Computer-Assisted Tour of Relatively." His creative approach to simplifying Einstein's Theory of Relativity, using a computer to synthesize the data, paid off. He won the national IBM award, which was a separate categorical prize.
Selwyn and Stephen De Souza's project, entitled "Solution to Acid Rain from Lead: Hydrometallurgical Leaching of Lead Sulphide," was awarded a silver medal in their Senior Physical Sciences category and a NOVA Corporation Scholarship. The two brothers also won the Metallurgical Engineering Award from Queen's University, Faculty of Applied Sciences, for the best project related to mineral/metal processing and recovery.
Another interesting exhibit at the Fair was by Michael Buckthought of Sir Robert Borden High School, Ottawa. His project on "Cosmic Connections" won him honourable mention from the Royal Astronomical Society. His prize included a paid membership in the Society and a magazine subscription.
Bob Price has a keen interest in computers. His well-organized and fascinating exhibit was entitled "Computer-Aided Instruction." This grade seven student showed that he was far beyond his years in his understanding and studies of various computer programs. These programs would be most useful as educational tools of the future, when computers will be in the classroom. Some say, "The future is now."
The Canada-Wide Science Fair '82 was a week in which students from St. John's, Newfoundland to Vancouver, British Columbia were able to meet and discuss topics of scientific endeavour. This regional mélange proved to be an enriching experience for all and a true learning experience.
By Selwyn and Stephen De Souza
A letter from the CIM Award Winner
Thank you very much for the award which I received at the Canada-Wide Science Fair '82.
The specimen set will be very helpful for my entry next year. I am planning a project on the microscopic identification of minerals, especially the use of different types of polarized light.
My interest started as a hobby and continually grew. I have been in science fairs for 5 years, my latest achievement being the greatest. I have worked in a rock shop in Shallow Lake, Ontario, where I am associated with fellow collectors whose ideas are very helpful. I have spoken to grade 5 classes on several occasions. My work is conducted in both school labs and at home, on weekends and in my spare time.
I hope to advance my education at the University of Waterloo. At present, my course of study would be an Earth Science course with my option in geology and having an emphasis on chemistry.
Thank you, again, for the award.
Yours sincerely, 
Robert Minto