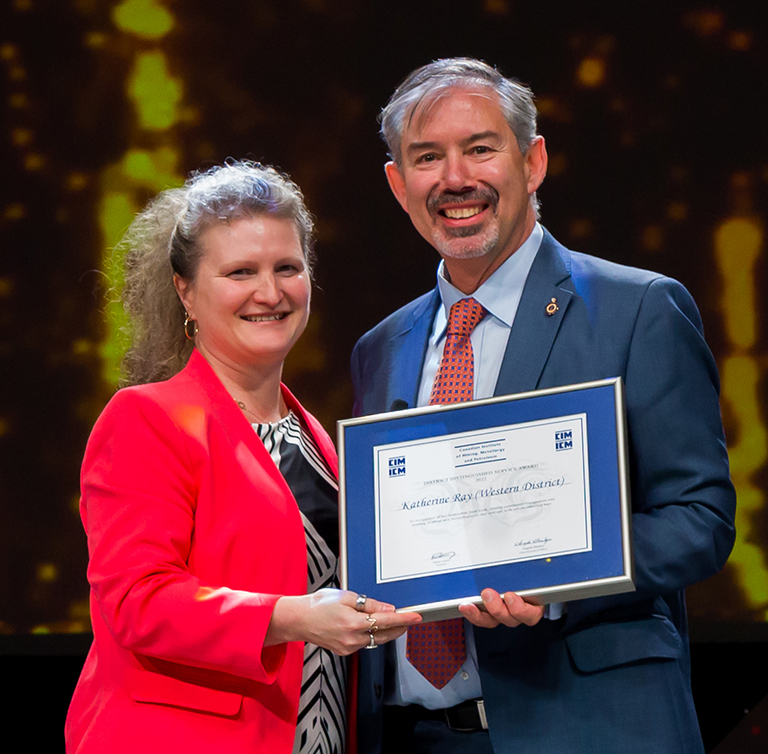 Katherine Ray receives the District Distinguished Service Award from Pierre Julien, CIM President 2021-2022.
As the Canadian Institute of Mining, Metallurgy and Petroleum (CIM) celebrates 125 years of excellence, we are excited to focus on the theme of "smarter mining" this week, showcasing our prestigious Branch and Society Awards. These awards recognize the remarkable achievements of professionals in the mining and mineral industry and highlight their dedication to advancing the field. We are proud to share some memorable stories of our esteemed award winners, as they embody the spirit of excellence that defines CIM.
One standout recipient of the District Distinguished Service Award in 2022 was Katherine Ray, who has made significant contributions to the mineral industry and her local CIM branch. With a diverse background in healthcare, biotechnology, industrial, and mining sales, Ray has held various positions since joining Molycop in 2012 as the account manager for western Canada. Through her involvement with the CIM branch and CMP region, Ray has played an integral role in promoting public understanding of mining and giving back to the community.
In 2019, Steve Courchesne received the McParland Memorial Award for Excellence in Maintenance, Engineering and Reliability. Courchesne's journey with Wire Rope Industries, now Bridon Bekaert Ropes Group, began in 1976, leading him to gain invaluable experience in various sectors, including elevators, ski lifts, steel mills, suspension bridges, dredging, and underground mining. As a member of CIM and the CSA G4 Technical Committee, Courchesne has shared his expertise worldwide, contributing to the development and patenting of next-generation rope designs.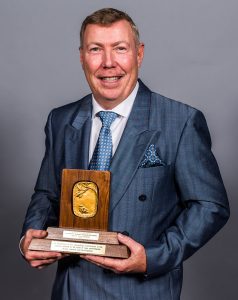 Steve Courchesne proudly displays the McParland Memorial Award he received in 2019.
These inspiring stories demonstrate the commitment, passion, and ingenuity of our award winners, who have made a lasting impact on the Canadian mining industry. As we continue to celebrate 125 years of CIM, we look forward to recognizing more outstanding achievements in smarter mining and upholding our tradition of excellence.