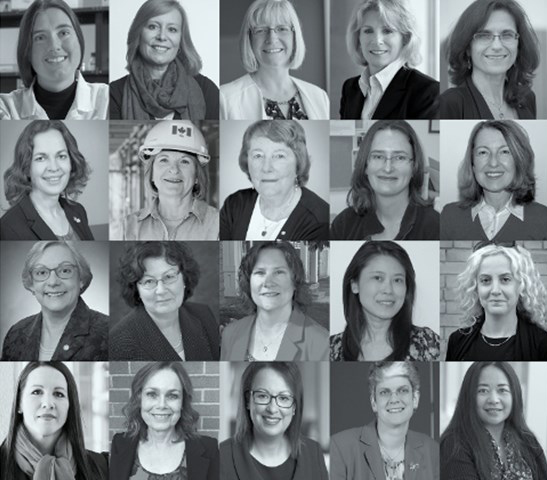 CIM's Women of Innovation recounts the stories of 20 inspiring and innovative women engineers in Canada. From left to right starting from the top: Stephanie Willerth, Jill Green, Amanda Kalhous, Elizabeth Canon, Elizabeth Croft, Catherine Harwood, Genanne Beck, Monique Frize, Valerie Orsat, Izabela Witkowska, Margaret Kuzyk, Claire Deschenes, Jennifer Smith, Ying Zheng, Goldie Nejat, Denise Pothier, Colleen Legzdins, Jeanette Southwood, Catherine Mulligan, and Carolyn Ren
In 1992 the Government of Canada designated October as Women's History Month.
The goal was to encourage greater appreciation of the notable contributions of women to Canadian history. October was selected because it was on October 18th, 1929 that Canadian women were first declared to be legally considered as 'persons.' *
"This year's theme," according to the Government of Canada website, "Through Her Lens: Celebrating the Diversity of Women, emphasizes the importance of recognizing the achievements and contributions of women from diverse backgrounds. It focuses on the unique perspectives, experiences, and challenges faced by women, including Indigenous women; women from 2SLGBTQI+ communities; women with disabilities; and newcomer, racialized, and migrant women. 
"Let's continue to honour women who don't accept the status quo and fight hard to improve the lives of all women in the country."
To help celebrate Women's History Month in Canada, we will be sharing inspiring stories of women in mining and their unique and diverse contributions to the industry.
We also invite you to join us live online on Thursday October 19 to hear Cathy Mulroy speak about what it was like to be one first women in the mining industry since World War II.
Register here for the webinar "Mulroy's View: A Memoir"
Finally, take advantage of National Book Month, and enjoy 15% off all the books in the CIM Bookstore, including Women of Impact (available in English only) and Women of Innovation (available in French and English).