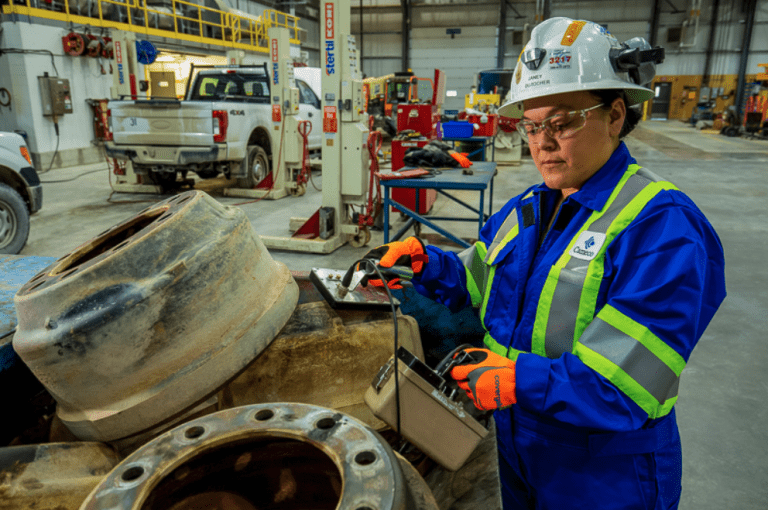 A mine worker at Cameco's Cigar Lake Operation, winner of the John T. Ryan Regional Select Trophy (Prairies/Territories) in 2021. Courtesy of Cameco Corporation
As the Canadian Institute of Mining, Metallurgy and Petroleum (CIM) marks its 125th anniversary, we're shining a spotlight on the individuals and organizations who are changing the perception of mining through their dedication to safety. These trailblazers are recognized through three prestigious awards, which underscore the importance of maintaining the highest safety standards in the mining industry. 
The Hatch-CIM Mining & Minerals Project Development Safety Award pays tribute to outstanding project safety systems, culture, and performance. It rewards project teams that have completed significant Canada-located projects, emphasizing the importance of safety execution in mining projects. This award inspires companies to prioritize safety and create a culture of excellence.  
Meanwhile, the John T. Ryan Safety Trophies have been promoting friendly competition and public recognition of mines with the lowest reportable injury frequency since 1941. This program spans across metal, coal, and select mines in various geographical regions, with the ultimate goal of eliminating the suffering of miners and their families due to work injuries. 
The Mining Safety Leadership Medal, established in 2018, is a testament to the industry's dedication to continuous improvement. This medal honors individuals or organizations that have demonstrated innovative means of enhancing safety and health outcomes in mining, with a preference for those who haven't been previously recognized for their work in this area. 

One example is Shawn Rideout (above), the Chief Mine Rescue Officer for Ontario, who was awarded the Mining Safety Leadership Medal in 2022. Shawn has been a game-changer in the industry, single-handedly revolutionizing the Ontario Mine Rescue program's standards, procedures, and equipment since 2015. His unwavering commitment to safety has contributed to a safer mining environment in the province, making him a true inspiration for the entire mining community.  
Join us in celebrating the remarkable achievements of these safety champions, who are not only transforming the mining industry but also setting an example for other industries to follow. Let's continue to work together towards a safer and more sustainable future for all.