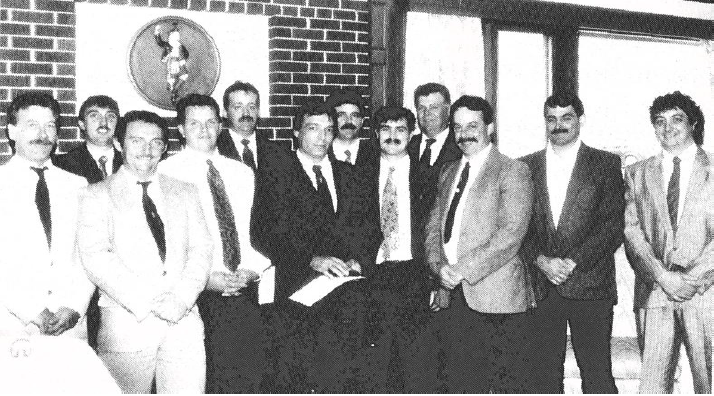 The Westray Draegermen received their Medals of Bravery 'for great bravery displayed in the Westray Disaster, Plymouth, Nova Scotia, on May 8, 1992' at the Awards luncheon. Some of the names of the men honoured: Julien Thibault, Yves Bergeron, Don Chiasson, Maurice Cormier, Gary Duke, Norman Jones, Dennis Mazerolle, Jean-Claude Friolet, Melvin Harris, Ashley Jagoe, Gerard Pitre, Alban Savoie, Leonard Lavigne, Leonard McGrath, Denis Mallet, Ken Martin, Gervais Roy, Paul Boucher Reg Falconer, David Hubbard, Jim Dickie, Gerald Hillihan, Kim Savage, Eric Kingston, Ken Donovan PErnie Hamilton, Mark Mitton, Carl Mitchell, Elvin Adair, Mario Tanguay, Keith Rediger
As CIM marks its 125th anniversary, we turn our focus this month to the theme of perception, with the week's topic being "Safety and Technology." One of the highlights of CIM's efforts in promoting excellence in the mining sector is the Legacy Awards category. These prestigious awards honor trailblazers, inspiring innovations, and outstanding achievements in various fields of mining, fostering a safer and more technologically advanced industry.
The Legacy Awards encompass several noteworthy recognitions, including the CIM Presidents' Role Model Medal, Coal Award, Medal for Bravery, CIM/NRCan Journalism Awards, District Proficiency Medals, Order of Sancta Barbara, and the Metal Mining Society Award. Each of these awards showcases a unique aspect of the mining industry, from early career accomplishments to exceptional contributions in mining engineering, community welfare, and public understanding of the sector.
One inspiring example from the Legacy Awards category is the CIM Presidents' Role Model Medal. This award recognizes early career professionals who set an outstanding example for young CIM members and those considering a career in the minerals industry. The 2021 winner, Tim Mbanga, serves as a shining example of commitment to both the industry and mentorship of future generations. With his extensive experience in mineral processing, Tim actively collaborates with young engineers and high school students, volunteering his time and expertise to mentorship programs, science fairs, and career events.
The CIM Legacy Awards play a vital role in celebrating the accomplishments and innovations that drive the mining industry forward. As we anticipate the upcoming annual conference, let's continue to recognize and be inspired by the exceptional individuals who are shaping the future of mining, with an unwavering focus on safety, technology, and the betterment of the sector.